Splash Guard, Newest Filtration Safety Accessory
Product Announcement from Eaton Filtration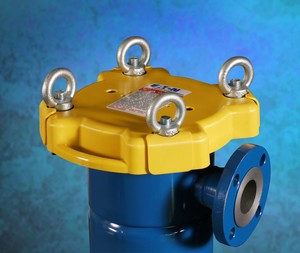 Eaton Announces the Launch of its Newest Filtration Safety Accessory
CLEVELAND … Diversified industrial manufacturer Eaton Corporation today announced the introduction of its new patent pending Splash Guard safety accessory, which provides additional protection from liquid splash conditions in industrial environments. Engineered to fit on its FLOWLINE™ and FLOWLINE II™ single bag filter vessels, this new safety accessory is made from impact resistant, UV protective polymer making it ideal for harsh industrial environments.
"The Splash Guard product reflects Eaton's commitment to providing products that help protect associates in industrial settings against unforeseen accidental events," said Rick Jacobs, president of Eaton's Filtration business. "We hope you will join with us in taking extra precautions in protecting employees."
Designed with operator safety in mind, the Splash Guard is secured to the filter housing vessel lid. This design helps protect operators from unexpected pressurized spray and discharge, reduces operator exposure to potentially hazardous material, and provides additional eye and face protection. Available from Eaton's filtration distribution network, the Splash Guard will fit on new and existing Flowline vessels. It is easy to install and does not interfere with bag change outs.
Eaton's Filtration business is a worldwide leader in supplying environmentally friendly and economical solutions for liquid/solid separation problems and enhancing customers' processes in municipal and industrial water, oil and gas, chemical, paint, and other industrial
market applications. Eaton is the owner and manufacturer of the widely recognized legacy brands of GAF Bag Filters, Hayward Filtration, Loeffler, Ronningen-Petter, and Wright-Austin. Eaton filtration products are manufactured and sold worldwide through North and South American, European and Asia Pacific regional offices and an extensive global channel of representatives and distributors in more than 100 countries. For more information, visit Eaton Filtration.
Eaton Corporation is a diversified power management company with 2010 sales of $13.7 billion. Celebrating its 100th anniversary in 2011, Eaton is a global technology leader in electrical components and systems for power quality, distribution and control; hydraulics components, systems and services for industrial and mobile equipment; aerospace fuel, hydraulics and pneumatic systems for commercial and military use; and truck and automotive drivetrain and powertrain systems for performance, fuel economy and safety. Eaton has approximately 70,000 employees and sells products to customers in more than 150 countries. For more information, visit www.eaton.com.
You have successfully added from to your part list.
You need Flash player 8+ and JavaScript enabled to view the Splash Guard, Newest Filtration Safety Accessory video.
Get the Latest Flash player.
---