D65 Voltage Monitoring Relay
Product Announcement from Eaton Corporation - Power Control & Logic Components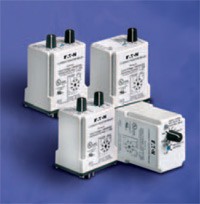 Overview
Voltage Monitoring Relays by Eaton Corporation protect distribution systems suppplying motor feeder or branch circuits against premature equipment failure caused by voltage faults on three-phase systems. Voltage Monitoring Relays protect against voltage imbalance and single phasing regardless of any regenerative voltages.
D65 Voltage Monitoring Relay
A solid-state protective relay for three-phase, wye or delta connected, distribution systems supplying motor feeder or branch circuits. The D65 monitors three-phase voltage and responds to abnormal conditions including phase loss, phase reversal, undervoltage and phase unbalance.
Offering a reliable way to monitor AC single-phase currents for over or undercurrent conditions in three current ranges: 0.1 – 1 A, 0.5 – 5 A and 1 – 10 A. The current range can also be extended with the use of an external current transformer.
Standard (D65CE), Can be used to detect either an overcurrent or undercurrent condition.
Overcurrent (D65CH), Should be used to detect an overcurrent condition.
Undercurrent (D65CL), Should be used to detect an undercurrent condition.
For more information on D65 Voltage Monitoring Relays, visit Eaton's Product Page or click the email link on the right side of this page.
---