HT800 Pushbuttons (30.5mm)
Product Announcement from Eaton Corporation - Power Control & Logic Components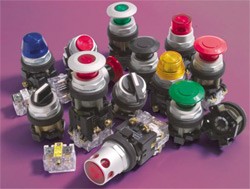 Overview
The heavy-duty HT800 Series is a family of 30.5mm pushbutton devices that includes momentary, illuminated and mushroomhead pushbuttons, selector switches, indicating lights and push-pull units. The HT800 devices have a familiar appearance found in most industrial applications and are suitable for replacement of several other manufacturers' 30.5mm devices.
Unlike its closest competitor, the HT800 devices are all UL® (NEMA) Type 4X rated for resistance to corrosion. In addition, all HT800 devices are shipped complete with grounding hardware to ensure compliance with electrical installation requirements. With most competitive devices, grounding kits have to be purchased separately. Rugged metal construction, handsome appearance, extra features, and competitive prices makes the HT800 Series the logical choice for OEM's and panel builders looking for value, durability, and reliability.
Features
Die-cast metal housings create robust and heavy-duty devices that can endure repetitive and heavyhanded use in industrial
environments.
Anodized aluminum mounting rings are corrosion resistant and are UL® (NEMA) Type 4X rated.
Double-V gaskets and O-rings seal operators against contaminants to maintain dust-tight, watertight and oil-tight panel ratings (UL® Type 4, 12 and 13 rated).
Pilot-duty UL® Type A600 rated contact blocks handle inductive loads up to 0.35 power factor (PF) compared to general-purpose ratings that only have a 0.75 PF rating.
Contact blocks have clear transparent housings to allow easy visual inspection of contacts.
Contact blocks are color coded (white for N.O. and black for N.C.) to permit easy identification and troubleshooting.
Movable contacts in contact blocks have a "reliability" ridge to ensure solid electrical contact under a variety of electrical conditions.
Logic level contact blocks have gold plated contacts to ensure circuit integrity down to 1mA @ 5V.
Extended height bulbs provide side illumination of illuminated pushbuttons and indicating lights.
Contact blocks mount side-by-side and are stackable. They can be mounted in left and right positions or rotated to mount in upper and lower positions. This flexibility permits correct positioning and alignment of the terminals to line up with existing wires in retrofit applications.
Bright and long lasting LED's are available in six colors.
Selector switches can be converted from 2-position to 3-position and vice versa by rotating the internal cams – a nice option to have on the jobsite.
Knob and lever assemblies can be rotated every 22.5 degrees to suit various panel layouts.
For more information on HT800 Pushbuttons, visit Eaton's Product Page or click the email link on the right side of this page.
---