Vacuum Contactors
Product Announcement from Eaton Corporation - Power Control & Logic Components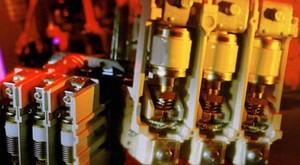 Overview
Eaton's Vacuum Contactors and Starters were designed for starting and controlling three-phase, 50/60 Hz, AC motors. Each contact is enclosed in a vacuum bottle to reduce and contain contact arcing. This design offers excellent performance for plugging and jogging applications.
Application Description
The Vacuum Contactors and Starters are offered in three classifications. They are NEMA rated devices up to 600V AC, Special Purpose rated devices up to 1500V AC and Mining rated devices rated up to 1500V AC. Each device is tested to different standards to serve their market. Typical applications include full voltage control of three-phase squirrel cage motors, primary control of low voltage wound rotor motors and circuit switching for low voltage capacitors for power factor improvement.
A vacuum contactor is affected by atmospheric pressure on the bellows of the vacuum bottles. Up to an altitude of 6600 feet, the contactor is designed to tolerate normal variations in barometric pressure. If the contactor is to be operated above 6600 feet above sea level, consult your Cutler- Hammer representative.
Features
Rugged, compact and lightweight
Quiet operation
Electrical and mechanical interlocks available
Long service life
Benefits
Easy maintenance with front removable coil and auxiliaries
Eliminate extra surge suppressors with the standard low chop interrupters
Plan your preventative maintenance schedule by utilizing the contact wear indicator, standard on all vacuum bottles
Operation
The contact structure of the vacuum break contactor is located inside sealed ceramic tubes that have been evacuated of air. Any arc occurring across the contacts upon opening is automatically extinguished because ionized air is not available to sustain it — the arc breaks when the current passes through zero. The arc typically does not service beyond the first half cycle once the contacts begin to separate. The large arc chutes normally associated with contactors of this size are not required. The ceramic tube with the moving and stationary contacts is called a vacuum interrupter or bottle. There is one bottle for each pole on the contactor. A metal bellows (like a small, circular accordion) within the bottle allows the moving contact to be closed and pulled open from the outside without leaking air into the bottle. Both the bellow and the metal- to-ceramic seals of these state-of-the- art bottles have been refined to the point where the possibility of loss of vacuum has been virtually eliminated.
Standards and Certifications
NEMA Devices
UL Listed File #E1491, Guide Number NLDX
CSA Approved
Special Purpose Devices
IEC 947-4-1
CE Approved EN 60947-4-1
UL Listed File #E1491, Guide Number NLDX
CSA Approved
For more information on Vacuum Contactors, visit Eaton's Product Page or click the email link on the right side of this page.
---