XB IEC Terminal Blocks
Product Announcement from Eaton Corporation - Power Control & Logic Components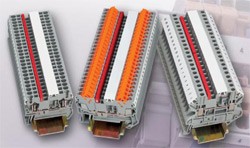 Overview
The XB Series of IEC Terminal Blocks from Eaton's electrical business offers a full line of terminal blocks complete with universal accessories across three connection technologies, screw, spring cage and Insulation Displacement Connection (IDC), reducing inventory and logistic costs.
Eaton now also offers custom rail assemblies along with ECHART Rail Assembly Software, which allows you to build your custom rail assembly and provides dimensionally accurate drawings.
Application Description
XB Series terminal blocks contain high-grade, strain-crack and corrosion proof copper alloys to prevent electrolytic corrosion and rusting. The metal surfaces are protected with a lead-free, galvanic nickel or tin plating. The electrical conductivity permits only a low temperature rise.
Features
Global Acceptance - designed to worldwide standards
Flexible Plug-In Bridge System - All XB Series use the same bridge system and have two bridge shafts arranged in one line
Marking Areas - Generously sized surface areas for labeling
Testing System - Test plugs make contact in one of the easily accessible bridge shafts
Construction
Insulation Material - Polyamide 6.6
Clamping Body - Tin Plated Copper
Flammability Rating - UL 94 VO
Continuous Operating Temperature - 40ºC - 125ºC
Standards and Certifications
UL recognized: File No. E67464
Eaton DIN terminal blocks are ISO 9001 certified
CE
LVD:

EN60947-7-1
EN5094-1
EN60947-1 A11
EN60529
For more information on XB IEC Terminal Blocks, visit Eaton's Product Page or click the email link on the right side of this page.
---