Product Announcement from Eaton | Power Quality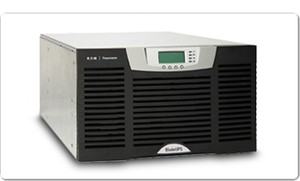 You may have heard Eaton's name in the Electrical Industry. But you may not know that we are a leader in the UPS market. In fact the majority of Fortune 500 companies rely on Eaton for their power protection, conditioning, distributing and management solutions. We have recently released Three Industry-Leading White Papers.
"Distributing Power to Blade Servers"
Ten steps to selecting the optimal power distribution design
With the growth in blade servers with dual or triple power supplies, a single rack of equipment can easily produce dozens of power cords to manage—and an appetite for 20 kW or more of reliable power. Traditional power strips are just not up to the task. Eaton® offers a complete suite of enclosure-based power distribution units (ePDU™) that streamline the power architecture and support rapidly escalating blade server power requirements. Eaton is unique in the industry for providing a tiered set of ePDU product families along two dimensions—tiered both in power capacity and in functionality. That means you can precisely match up the combination of features and power rating needed for each application.
Which blade server ePDU is right for your application? What deployment considerations apply? With the right ePDU model and implementation strategy, you can satisfy present and future needs, optimally balance loads and enhance data center efficiency and uptime. Although the Eaton ePDU family encompasses a host of models and options, selecting the right product and implementation scheme for any given application is a simple matter based on 10 key factors...
"Is Power Your Weakest Link In Data Center Flexibility"
Key considerations for power systems in adaptive IT environments
Business was booming to the point that the company outgrew its enterprise resource planning (ERP) system. It was time to upgrade to new software, larger storage and faster processors. The VP of manufacturing had no trouble getting approval for the upgrade and planned a one-month rollout process. No problem. Actually, it proved to be a big problem. Hardware upgrades, software installation and data conversion could be completed in a month, but that was just the start. Space limitations compelled the company to migrate to high-density servers and storage devices that required more power than the company's power system could handle.
The power system overhaul would have been so costly that the company ultimately decided it was faster and cheaper to deploy the new ERP system in an entirely new building with new power systems. The end result: a cost overrun of more than 100 percent, and a wastefully underutilized data center. Sadly, this scenario is typical. Even where there is ample budget and space to support IT growth, is there enough power? Often the answer is "no." This essential commodity, once taken...
"Ten Ways to Protect Your IT Infrastructure"
Reduce Costs while protecting critical business systems.
If you have wondered how to provide serious protections on a small-business budget, this white paper is for you.
Learn about power, cooling and security issues that put your IT systems at risk.
Find out how to provide clean, conditioned, continuous power for critical systems.
Understand how to select the right power protection strategies for your needs.
Learn which cooling and security practices are best for your IT environment.
Save money with optimized strategies while increasing IT reliability and longevity.
For more information or to obtain full-versions of these White Papers please click here!
You have successfully added from to your part list.
---