AccuProx™ Analog Inductive Proximity Sensors
Product Announcement from Eaton Corporation - Sensors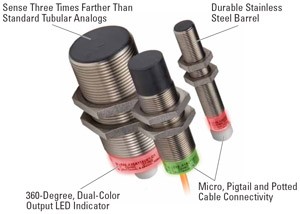 For additional product information, click the "See Product Details" link to the right of this page. To find a distributor near you, visit www.eatonelectrical.com.
OVERVIEW
The Cutler-Hammer® AccuProx™ from Eaton's electrical business is a high performance analog inductive proximity sensor. The AccuProx family of analog sensors provide unmatched sensing range, linearity and resolution in an affordable and compact tubular package.
Unlike standard inductive sensors, which send an open or close signal upon target presence or absence, AccuProx analog sensors provide an electrical signal that varies in proportion to the position of the metal target within its sensing range. This makes AccuProx ideal for applications requiring precise position sensing and measurement.
The sensing performance of AccuProx sets it apart from traditional analog inductive designs. Utilizing components from the cutting-edge Cutler-Hammer iProx™ family, AccuProx provides sensing ranges of three to four times that of typical tubular analog inductive sensors - all without compromising accuracy. Unlike many competitive products, which are often hampered by an "S-shaped" output curve, AccuProx outputs are linear.
AccuProx has the range and precision to solve your most difficult measurement applications.
FEATURES
- Extended linear sensing range of up to 25 millimeters, three times longer than standard tubular analog inductive sensors
- Outputs available in current (4 - 20 or 0 - 20 mA) and voltage (0 - 10V)
- High output resolution and repeatability for applications requiring precision sensing performance
- Robust stainless steel barrel, shock-resistant front cap, polycarbonate end bell and impact-absorbing potting compound
- Ideal for extreme temperature or high pressure washdown environments
- High noise immunity of 20V/m prevents many problems associated with electrical noise
You have successfully added from to your part list.
---