Fiber Optic Power Monitor
Product Announcement from EigenLight Corp.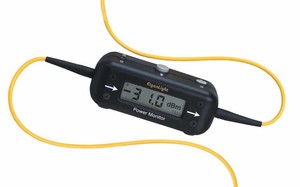 In-Line Optical Power Measurement for Fiber Optic Systems
EigenLight's Series 300 Optical Power Monitors provide continuous readout of optical power being carried by an optical fiber cable. Unlike conventional power meters, EigenLight monitors are useful for measuring optical power in live test sets and fiber optic systems. These devices can be installed in the most sensitive optical circuit without affecting performance and without the need to disconnect for power measurement. EigenLight's patented low-power ASIC chip enables a typical battery life of 3-years, making the power monitor an environmentally friendly technology that is also convenient for a variety of in-system applications.
Features:
Absolute or relative power readout
Typical battery life 3 years
Auto Power On/Off (Light activated)
Dual LCD displays for easy viewing
Optional Analog output for datalogging
Available in most fiber types
---