Extreme Temperature Flexible Conduit
Product Announcement from Electri-Flex Company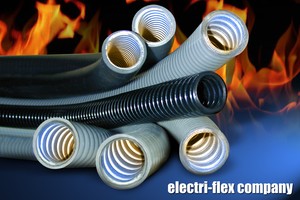 Extreme Temperature flexible conduit by Electri-Flex offer the advantages of a flexible sealed raceway coupled with the strength of a metal core. The formulated outer jackets withstand excessively hot or cold conditions, providing wiring solutions where standard flexible liquidtight conduits would not be suitable. Applications include industrial control equipment, kilns, refrigeration units, machinery and outdoor equipment subjected to the elements.
Type AT has a specially formulated PVC jacket that remains flexible at very low temperatures, unlike most plasticized PVC. Offering a rating from -55° to +105° C, intermitting to 120° C, Type AT displays slower aging characteristics at elevated temperatures. Ideal applications include annealing ovens, lumber kilns, foundries, and refrigeration.
Type ATLA, offered with the same temperature range as AT, has a flexible inner core made from a spiral wound strip of heavy gauge, hot-dipped galvanized steel. It's designed specifically for extreme hot and cold environments. Type ATLA is UL Listed and can be used in machine tool wiring as well as outdoor installations in cold climates.
Type ATX utilizes a halogen-free Thermoplastic Rubber (TPR) jacket that is virtually unaffected by extreme temperature changes. Type ATX remains flexible at -60° C to +150° C, contains no halogens and carries a flammability rating of UL 94-HB. It is ideal for use in boilers and furnaces.
Electri-Flex Company, a leader in electrical conduit design and manufacture for more than 50 years, produces Liquatite®, the most diverse line of liquidtight flexible electrical conduit in the industry.
The company offers custom design, engineering, quality assurance and testing capabilities. For more information on Electri-Flex Company, call (630) 529-2920 or (800) 323-6174; fax: (630) 529-0482; e-mail: mktg@electriflex.com; visit: www.electriflex.com; or write: 222 West Central Avenue, Roselle, IL, 60172-1994
---