Liquidtight Flexible Shielding Conduits
Product Announcement from Electri-Flex Company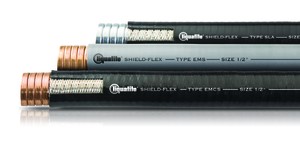 With three levels of effectiveness to choose from, Shield-Flex can meet your needs.
Good Shielding: Type SLA is identical to standard UL listed liquidtight flexible steel conduit, but is augmented with a tinned copper shielding braid located over the inner steel core and under its protective PVC jacket. It has a working temperature range of -30°C to 80°C Dry/60°C Wet/70°C Oil and the shielding braid offers a minimum of 90% shielding coverage.
Better Shielding: Type EMS offers a better shielding effectiveness than Type SLA and has a working temperature range of -55°C to 105°C. Type EMS has an inner core made from a fully interlocked bronze strip and does not contain a braided shield. An all-temperature PVC jacket is extruded over the core, resulting in a sealed, waterproof raceway when assembled with liquidtight fittings.
BEST Shielding: Type EMCS is a hybrid of SLA and EMS because it utilizes the same bronze core and PVC jacket as EMS but gets further screening protection from a tinned copper braid as found in the SLA product. Type EMCS offers the same working temperatures as EMS.
Halogen-Free (HF) Series: For a low-smoke, low-flame spread, zero-halogen version, ask for HFSLA, HFEMS, or HFEMCS. It is ideal for field installation in confined, public areas such as subways, tunnels, etc. The jacketing material virtually eliminates the release of acidic gases found in PVC products.
Applications for Shield-Flex conduits include:
Test and Measurement Equipment
Military Ground Vehicles
Variable Speed Drives
Radio Broadband Antenna
Alternative Energies such as Wind or Solar Power
Ship Building
Medical Diagnostic Equipment
Wireless Communications
CE compliance
Data Centers
Air Handling, or HVAC Equipment
Commercial Off The Shelf alternative to high cost mil-spec shielded conduit
Shield-Flex is ideal for the following markets: military, government, defense, industrial, medical, aerospace, telecommunications, utilities, alternative energy, commercial or public transit.
---