FD-009943-4001, 1 HP Eddy Current Drive
Product Announcement from Electric Maintenance Service Co., Inc.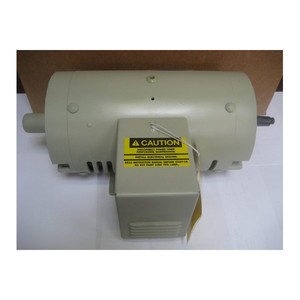 1 HP, 3 phase, 230/460 volt, 1600/50 rpm speed range.
Part number 0M6-440000-9943.
This eddy current Ajusto-Spede® drive consists of an air cooled adjustable speed coupling and in integrally mounted NEMA B ac induction motor. The drive transmits constant torque at variable speeds. There is no physical contact between input and output members which results in smooth response thereby eliminating shock loading and extending equipment life. All drives have an internal tachometer generator mounted around the output shaft to provide a feedback signal to the drive's controller. The controller provides the dc excitation for the coupling coil. The feedback signal from the tachometer generator is compared against a reference signal within the controller to maintain accurate speed regulation. Other horsepower and speed ranges are available.
Features -
The mechanical unit is self contained and requires no special hook up
200% rated torque capability is standard for starting and high peak loads
Double shaft and double 56C-face is standard
Rugged ac motor
Controller is mounted onto the mechanical drive
Dimensions - 15.50" x 10.25" x 6.75"
Same As:
Replaces:
M0-100000-9943
M2-410000-9943
M2-430000-9943
M4-440000-9943
0M4-440000-9943
---