Custom Fiber Optic Cables - MTP Fanouts - More!
Product Announcement from Electro Standards Laboratories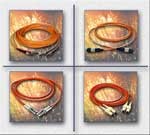 Electro Standards manufactures custom Fiber Optic Network Cables to meet your exact specs.
Three easy ways to get your custom fiber cable assemblies:
1) Complete and submit your Custom Fiber Optic Cable Design Worksheet or
2) Contact Sales Engineers at 401-943-1164 or
3) E-mail at eslab@ElectroStandards.com.
We've Got Fiber! All Types!
Fiber Optic MTP®/MPO Fan Out Cable Assemblies
12 Fiber "Plug and Play"
MTP®/MPO connector for quick connection of 12 fibers
12 times the density of SC connectors
Factory terminated and tested
Save duct space and installation time
Push/Pull mating for quick installation
Single-mode and multi-mode fiber
Quick-connect cassettes for extra-easy termination
1x1, 2x2, 3x3, or 6x6 Multi Ribbon MTP® Trunk Cable
12, 24, 36 or 72-fiber trunk cable
MTP®/MPO Connectors, male or female on ends
50/125µm, 62.5/125µm fiber
Numbered legs each side for easy connection and installation
Crush resistant plenum
Efficiently distribute multiple fiber strands from point-to-point
Terminated Fiber, Multi-mode, 50/125µm, 62.5/125µm or Single Mode, 9/125µm - All Lengths!
All connector combinations including: LC, SC, FC, ST, FDDI, ESCON, MTRJ and more.
Duplex, Simplex, PVC or Plenum
Ceramic connectors for low signal loss
High reliability, long life quality cables
Near-unlimited bandwidth at high speeds over long distances
Totally immune to electrical interference
VersaLink Plastic Optical Fiber (POF) Patch Cord
Ideal for Casino / Gaming VLT Network Applications
Simplex, Non-Latching
VersaLink Plastic Optical Fiber Patch Cords feature the Versatile Link connectors providing ready made solutions for rapid installations for any industrial or commercial application utilizing the Avago Technologies Versatile Link transceivers. Cables are available in standard and custom lengths. Versalink cables can be simplex or duplex cable featuring either latching or non-latching connectors.
The simplex cables are constructed with a single step-index plastic optical fiber sheathed in a black polyethylene jacket. The duplex cables are constructed with two step-index plastic optical fibers sheathed in a black polyethylene jacket.
Applications:
Industrial data links for factory automation and plant control
IntraSystem links (board-to-board, rack-to-rack)
Telecommunications switching systems
Computer-to-peripheral data links (PC bus extension)
Proprietary LANs
Digitized video
Medical instruments
High voltage isolation
Gaming terminal networks
Electro Standards will be pleased to quote all of your requirements.
Click here to see our complete line of standard and custom fiber optic network cables.
Electro Standards can also supply your Fiber Optic Switch requirements.
All data communication products from Electro Standards are available for export.
Electro Standards Laboratories – Advanced Systems Design & Services
---