The World's Most Reliable Lithium Battery
Product Announcement from Electrochem Solutions, Inc.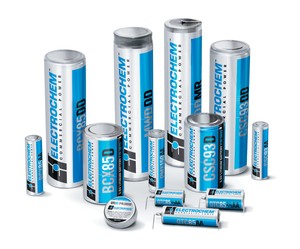 By offering a full range of cells including Lithium Thionyl, Lithium Bromine Chloride and Lithium Sulfuryl Chloride chemistries, we pride ourselves on the ability to meet a variety of requirements for diverse applications. Our sizes extend from 2/3 AAA up to a Tall Super D and possess rate capabilities that consist of low, moderate and high temperature ranges; these characteristics permit flexibility of our cells within given application dimensions and specifications.
Electrochem produces lithium cells in-house at our state-of-the-art manufacturing facility located in Raynham, MA. Here we create and include proprietary electrolytes in every lithium cell allowing our technology to provide reliable power under various conditions such as extreme hot and cold temperatures, unremitting pulsation and severe shock and vibration. Our cells possess a very low self-discharge rate enabling a longer shelf life than most batteries, along with providing the highest energy density accepted in minimal packaging of up to 915 Wh/liter, nearly three times more than alkaline. These capabilities ensure your application will receive dependable power throughout its operation.
For example, the U.S. Navy turned to Electrochem to provide mission critical power for the AN/PRC-149 Survival Radio through the use of our primary lithium cells; while marine engineers in Southern California can rest assured knowing Electrochem's primary lithium cells power their surface buoy used to monitor critical pressure measurements and wave heights of the oceanic waters. And, world-leading pipeline service companies chose Electrochem's lithium batteries to ensure safe collection and transfer of data through the harshest desert conditions and sub-zero temperatures. Our lithium cells provide constant power while traveling through these pipelines by featuring the highest energy density available in the industry.
Electrochem lithium batteries are synonymous with reliability and safety which complete our approach in designing solutions for long term top mission performance.
Learn more about our lithium cells.
Browse our datasheets.
Contact us directly at Marketing@ElectrochemSolutions.com or 716.759.5800.
---