Vital Power for Portable Medical Devices
Product Announcement from Electrochem Solutions, Inc.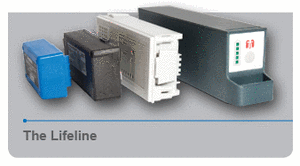 Medical device applications are the ultimate test of reliability and performance-because failure is not an option when human lives are on the line. That's why major medical original equipment manufacturers (OEMs) worldwide trust Electrochem, a subsidiary of Greatbatch, Inc.
Electrochem's expertise in customized power and technology solutions for the medical market can be traced back to 1962, when founder Wilson Greatbatch invented the world's first lithium cell for the implantable pacemaker. Today, Electrochem enjoys a well-deserved reputation for superior performance, superlative quality and unmatched reliability.
Working in a state-of-the-art manufacturing facility, our highly skilled engineers provide consultation, design, development and testing for an array of medical device applications, specializing in cell and battery pack configurations for rechargeable and non-rechargeable power solutions using a variety of chemistries.
Our solutions are used in a variety of portable medical applications where failure is not an option, including:
LVADs
Infusion Pumps
Oxygen Concentrators
Wound & Bone Healing
Patient Monitoring
Handheld Surgical Tools
Portable Suction
Portable Nebulizers
Powered Surgical Instruments
Defibrillators
Intra Aortic Balloon Pumps
Diagnostic Tools
Portable Imaging Solutions
CPAP and BiPAP Machines
Pulse Oximetry Devices
Featured Applications
Electrochem is proud to support ZOLL Medical Corporation, a global leader in medical products, by providing a customized battery pack made specifically for their critical M-Series family of defibrillators. When cardiac arrest strikes, ZOLL's M-Series is trusted by EMTs to perform as designed, every time. Electrochem's safe and reliable battery solutions ensure critical power to these vital devices.
Valuable Links
---