Announcing Galil's RIO-47100 Remote I/O Controller
Product Announcement from Electromate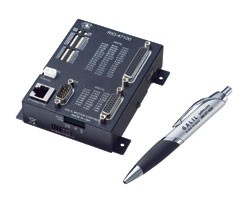 Galil is proud to announce the RIO-47100, an intelligent I/O controller for the Ethernet. This compact, cost-effective product allows you to easily add I/O on an Ethernet network. The RIO-47100 contains a RISC processor enabling it to handle I/O logic and execute programs at high speeds. It uses Galil's two-letter command language which means both the motion controller and I/O controller are programmed in the same, easy-to-use language.
Each RIO unit provides numerous analog and digital I/O:
- 8 analog inputs, 0-5 VDC, 12-bit ADC
- 8 analog outputs, 0-5 VDC, 12-bit DAC
- 16 optically isolated inputs, 5-24 VDC
- 8 high-power isolated, sourcing outputs, 12-24 VDC, 500mA
- 8 low power isolated, sinking outputs, 5-24 VDC, 25mA
Features:
- 10/100 Base-T Ethernet port plus one RS232 port configurable for 19.2 kbaud or 115 kbaud
- PoE Power-over-Ethernet for running low power I/O devices or can be powered with external 18-36 VDC supply
- LED indicators for all digital I/O points
- RISC processor for handling I/O logic, executing programs, and multitasking
- Provides pulse counters and process loop control
- Built-in Web Server for viewing status and programming I/O
- Email capability for sending messages to host or controller
- Can be configured as a 'slave' device of an Ethernet motion controller (such as the DMC-40x0 or DMC-21x3 series)
- Small Size: 3.88" x 4.26" x 1.30"
- Metal enclosure with D-type connectors
- Cost-effective: $295 US in single quantities and $195 US in 100 quantities
The RIO-47100 is an ideal product where low-cost, distributed I/O is required in a system. The 10/100Base-T Ethernet port allows high speed communication either as a standalone product or for communication with a Galil Ethernet controller such as the DMC-40x0. Power-over-Ethernet (PoE) reduces wiring by powering the RIO with a standard Ethernet cable and a PoE switch. It gives the system designer a great combination of small package size, full I/O features, easy-to-use Galil programming language and low cost. Compared to the older IOC-7007, the RIO is much smaller in size, is less expensive, has faster processing, provides PoE, has a built-in web server and has a standard set of analog and digital I/O as part of the package.
More information on the RIO Controller can be found at the link below-
http://www.electromate.com/products/series.php?&series_id=102190
Electromate sells & services | Servo Motors | Servo Drives | Stepper Motors | Stepper Drives | Programmable Automation Controllers | Gear Products | Positioning Systems | Linear Bearings | Ball Screw Assemblies | HMI's | Power Transmission Products | and Feedback Devices

Click Here to View Our Product Line Card
Toll Free Phone: (877) 737-8698 or (905) 850-7447
Toll Free Fax: (877) 737-8699 or (905) 850-7451
E-Mail: Contact Us
You have successfully added from to your part list.

Play Announcing Galil's RIO-47100 Remote I/O Controller Video
---