FREE Motor & Drive Sizing Software
Product Announcement from Electromate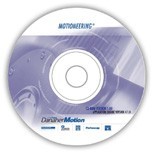 Key Features Included in the MOTIONEERING software are:
The "project" approach: where multiple axes of motion and their product solutions are combined. This allows power supply and shunt regeneration calculations to be done based on the simultaneous operation of multiple axes. An algorithm that simulates the foldback circuitry of the amplifier. This test assures that a system solution of motor and amplifier can not be made without considering the amplifier time constant. "MOTIONEERING takes the guesswork out of motor sizing. Complex calculations, that take hours by hand, are now handled quickly by the software," says developer Rick Armstrong. It takes a systems approach to sizing by considering the amplifier and power supply ratings in addition to those of the motor.
Application mechanisms that can be selected include: leadscrew, rack and pinion, conveyor, nip rolls, spindles and direct drive rotary and linear devices. Motion profiles include simple triangle, trapezoidal and custom built for flexibility in the number and type of segments defined. Product selection includes over 500 systems. Information can be imported and exported and reports can be printed.
Click Here to Learn More About Electromate's Products
Click Here to View Our Product Line Card
Toll Free Phone: (877) 737-8698 or (905) 850-7447
Toll Free Fax: (877) 737-8699 or (905) 850-7451
E-Mail: Contact Us
You have successfully added from to your part list.
---