Faster, Sharper Touchscreens!
Product Announcement from Electromate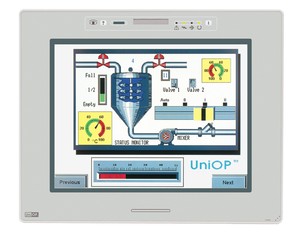 Exor Electronic R&D's high-end eTOP panels such as the eTOP10, eTOP33, eTOP40 and eTOP50 have received a major performance increase and will be equipped with a brand new CPU. They will replace the current models keeping the same part number but with the letter B added as a suffix. Included in this second generation touch series is the new 7.5" eTOP20B.
The new CPU board brings the processing power of a 200 MHz 64 bit MIPS processor and includes a number of interesting new features:
• 64K colors are supported in all TFT displays. This is corresponding to the '16 bit color' option in Windows. The higher number of colors is supported for all imported images bringing photo quality viewing on UniOP.
• Video input option to display images from video cameras and/or computers. Display up to four independent and simultaneous images using the VMO10 optional external video input module. Images can be easily resized and cropped.
• 32MB of internal, non-removable memory. This internal Panel Memory will increase the reliability of the panel when working in harsh environments. A Flash Card socket is also included so the use of an optional flash card is still possible.
• Backlight dimming on TFT displays. This is a plus for all applications that require reducing the brightness of the screen for better readability and user comfort. The brightness can be reduced by a factor of about 50.
Click on the link below to view the eTOP line of displays-
http://www.electromate.com/products/?keyword=etop&d=101587
Electromate sells & services | Servo Motors | Servo Drives | Stepper Motors | Stepper Drives | Programmable Automation Controllers | Gear Products | Positioning Systems | Linear Bearings | Ball Screw Assemblies | HMI's | Power Transmission Products | and Feedback Devices

Click Here to View Our Product Line Card
Toll Free Phone: (877) 737-8698 or (905) 850-7447
Toll Free Fax: (877) 737-8699 or (905) 850-7451
E-Mail: Contact Us
You have successfully added from to your part list.
---