Low-Cost Integrated Stepper Motors Ship <1 Week
Product Announcement from Electromate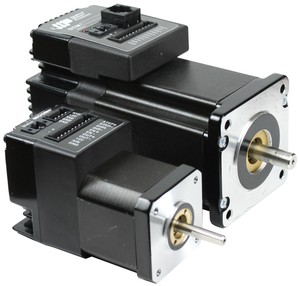 The STM Series, from Applied Motion Products, are NEMA 17, NEMA 23 and NEMA 24 frame Integrated Stepper Motors fusing step motor and drive technologies into a single device, offering savings on space, wiring and cost over conventional motor and drive solutions.
Powerful features such as advanced current control, anti-resonance technology, torque ripple smoothing and microstep emulation allow the STM motors to deliver optimized stepper performance ideal for medical, packaging, semiconductor and a wide variety of other automation applications. STM drive+motor units come standard with protection against over and under voltage, over-temp, motor shorts and motor open phase. They are RoHS compliant and CE certified.
Choose between RS-232 or RS-485 port for programming and serial communications
CANopen or Ethernet/IP for fieldbus communications
Optoinal built-in incremental encoder provides advanced functionality
Torque ratings to 340 oz-in
Two versions with different control options are available; the S version with step and direction input, and the programmable Q version. The STM-S is quickly and easily configured using a free graphical, intuitive Configurator Software. The STM-S can be configured from a drop-down menu, or the user can quickly create custom motor configurations if desired. The STM-Q is well suited for more complex motion. It provides stand-alone operation and is quickly programmed with the robust Q programming environment which delivers a number of benefits including register manipulation, conditional processing, math functions, multi-tasking and "generic" HMI compatibility.
Self-Test and Auto Setup features measure and configure the motor parameters automatically, while Electronic Damping (anti-resonance) technology eliminates midrange instability for higher motor speeds and fuller use of available torque. Command Signal Smoothing reduces extraneous system resonances for smoother motor performances and reduced wear on mechanical components. Torque Ripple Smoothing adjusts the current waveform to reduce low speed torque ripple for smooth motion at low motor speeds. Additionally, MicroStep Emulation provides smooth motion for systems that require low step resolutions such as retrofit systems with controller resolution that is fixed at a low value and cannot easily be changed.
More information on STM Series can be viewed at -
http://www.servo2go.com/category.php?cat=10021&sub=10047
Toll Free Phone: (877) 378-0240

Toll Free Fax: (877) 378-0249

E-Mail: Contact Us
You have successfully added from to your part list.

Play Low-Cost Integrated Stepper Motors Ship <1 Week Video
---