PITTMAN LO-COG SERIES 9000 MOTORS AND GEARMOTORS
Product Announcement from Electromate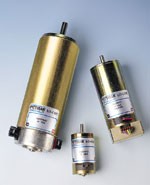 PITTMAN LO-COG Series 9000 brush-commutated DC motors and gearmotors perform quietly and smoothly over time. Their design features and construction make these brush motors and gearmotors ideal to power a wide range of equipment, whether utilized in data storage, medical/biotech, semiconductor, automation, commercial aviation, or countless other industries.
PITTMAN LO-COG Series 9000 motors and gearmotors feature seven-slot skewed armatures to minimize magnetic cogging (or reluctance torque) even at low speeds, which promotes their smooth and quiet operation. Commutators are diamond turned after armature assembly to ensure optimum concentricity and long brush life.
Series 9000 motors are available in six lengths and can achieve peak torques up to 77 oz-in and speeds up to 8,250 RPM. Series GM9000 gearmotors are offered in six lengths with 12 ratios from 5.9:1 to 4732.5:1 and can provide peak torques to 175 oz-in (standard) or 500 oz-in (with high-torque wide-face gears). Speed, voltage, current, and torque characteristics can be varied to meet specific needs. Windings are resin-impregnated for greater reliability in incremental motion applications. Copper graphite brushes are standard.
Motors are available in standard +12V, +19.1V, or +24V windings. Motor & Gearmotor pricing as low as $30 US/ea in quantity 100pcs.
Modular construction enables customization with alternate brush materials, encoders, timing belt pulleys, brakes, cables, connectors, modified shafts, and RFI suppression or special configurations. All PITTMAN motor products are subject to rigorous testing prior to shipment.
Click on the following link to view the complete specification and pricing on the Pittman LO-COG brush-commutated DC GM9000 gearmotors-
http://www.electromate.com/products/?keyword=GM9413&d=100968
Electromate sells & services | Servo Motors | Servo Drives | Stepper Motors | Stepper Drives | Programmable Automation Controllers | Gear Products | Positioning Systems | Linear Bearings | Ball Screw Assemblies | HMI's | Power Transmission Products | and Feedback Devices

Click Here to View Our Product Line Card
Toll Free Phone: (877) 737-8698 or (905) 850-7447
Toll Free Fax: (877) 737-8699 or (905) 850-7451
E-Mail: Contact Us
You have successfully added from to your part list.
---