Product Announcement from Electronic Solutions Company, Inc.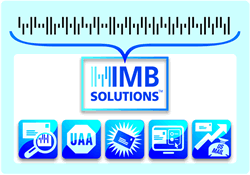 This application uses a Cognex camera and Electronic Solutions Company's Windows based software to read postal codes being stuffed into envelops by a Bell & Howell machine. They read the postal code, perform a lookup in the database, and diverts the document if there is a problem. If there is no problem, then the document keeps going.
Problem:
With increasing transportation costs in the delivery of mail, USPS and contract facilities must find ways to decrease cost or offer incentives to the postal packagers. One such incentive is to use the 4 State Customer Bar Code – also known as Onecode or Intelligent Mail.This relatively new bar code combines Postnet and Planet Code and includes a unique number. Less manual sorting can be used because this code is more precise than just Postnet. So, the USPS charges can be less.
Solution:
This system takes a signal from the photoeye turns on a light system and a second signal triggers the camera The PLC listens to the camera I/O and turns on and off stacklights as well as the diverter The captured postal code is retrieved and a look up is performed. If the code is valid, the operation continues. If there is a no read, duplicate, or invalid code, Electronic Solutions Company's program tells the PLC to activate a diverter and lets the operator know the failure mode. They can connect directly to the E-Stop on the machine if desired. No read images are captured and stored for analysis. Date and time stamps are added to the database.
Hardware:
Electronic Solutions Company uses the Cognex Insight 5400 camera series because of its decoding speed, large field of view and depth of field, and ability to read the postal codes or OCR for future applications. This camera has integrated Ethernet and the trigger is instantaneous. The break out module with the DIN rail mount makes discrete I/O much easier to integrate. An LED bar light helps create a consistent environment in the read area.
Contact Electronic Solutions Company, Inc.:
If you need this solution to your data collection problem, give Electronic Solutions Company a call at 765-742-9894 or email them. If you're looking for something close to this, Electronic Solutions Company can customize this solution to fit your needs
You have successfully added from to your part list.
---