Product Announcement from Electronic Solutions Company, Inc.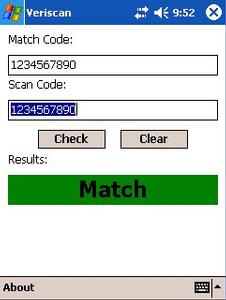 The old saying that "100% inspection is only 80% effective" isn't far from reality. It can be very difficult for a person to compare hundreds of similar looking products throughout the day and find the entire quantity of non conforming product without additional tools.
What if the product that is being sorted has a bar code? Electronic Solutions Company developed this solution to solve that exact problem. They call it Veriscan.
The Veriscan application helps improve the % accuracy of comparing bar codes. This program stores a known "good" bar code in the program memory and shows you the stored bar code. When the user scans a bar code, he gets a green match indication on the display and is immediately allowed to continue his product sorting.
If the user reads a bar code that doesn't match, he gets a different beep from the terminal and a red no match indication on the display. The user must also acknowledge the no match by touching the OK button on the display window in order to continue.
This application was written for the Windows Mobile environment for the Symbol mobile devices This device has a 1D 2D imager which makes it a lot easier to read a bar code than using a laser. Electronic Solutions Company's application also takes advantage of the high color contrast touch screen to make it easier and more effective for the user. The user would still have to handle and move the product from the suspect pile to the good pile – so there are other chances for error.
Email Electronic Solutions Company for a demo of this application today!
You have successfully added from to your part list.
---