RFQ
Product Announcement from Ellsworth Adhesives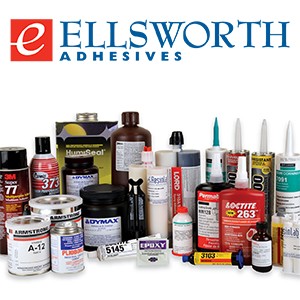 Ellsworth Adhesives has an online "Request for Quote", or "RFQ", feature to its website. This functionality makes it quick and easy for customers to request a quote directly from our website. Customers completing the online form will receive a quote via email within 2 hours. International requests from outside North America will be quickly forwarded to one of Ellsworth's many global locations throughout Europe and Asia.
"Ultimately we want to offer the same services to customers, whether they are online or on the phone. Our ability to also provide RFQ's online brings us one step closer to achieving that goal," stated Mike McCourt, president of Ellsworth Adhesives - Specialty Chemical Distribution. The new RFQ feature makes it easy to request pricing from Ellsworth's extensive inventory of over 15,000 adhesive and dispensing products. Ellsworth Adhesives also offers technical and adhesive expertise through Live Chat with its Ask the Glue Doctor service, as well as complete Technical Data Sheet (TDS) and Material Safety Data Sheet (MSDS) documentation online.
Ellsworth Adhesives - Specialty Chemical Distribution is a global distributor of adhesive products and dispensing equipment, with the most comprehensive level of technical expertise available. The company has sales offices and distribution facilities in the United States, Canada, Mexico, Europe, China, Hong Kong and Malaysia. Call 800-888-0698 or visit www.ellsworth.com for further information.
---