Illuminated PTO (Power Take Off)
Product Announcement from elobau sensor technology, Inc.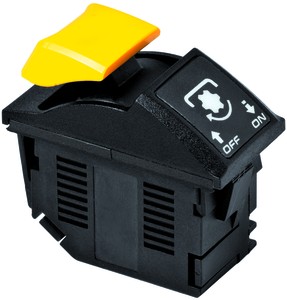 Elobau Sensor Technology Inc. 151PTO push button for vehicle applications. This PTO is based on Reed switch technology and has a lower profile then existing PTO push buttons. It is designed to be incorporated in a cab of many types of commercial vehicles.
The 151PTO has lighting, which enables "day and night" functions as required by many vehicle applications. The 151PTO has symbol plate location at the front of its housing, and can be customized to accommodate specific symbols. The 151PTO features reliable non-contact Reed switch technology. A magnet moves along a Reed element, located in the push-button housing. The switching power is 10W/VA under 48V maximum switching voltage, with a maximum switching current of 0.3 Amps. The electrical connection is through 5 wires, with a standard Molex plug.
The non-contact Reed switch technology ensures a longer service life, guaranteed to 4 million switching operations. The 151PTO push-button operates in a range from -40ºC to +85ºC (-13ºF to +175ºF). The robust rubber boot provides an IP67 protection class above the mounting panel. The push button is tested to DIN IEC 68 Part 2, and materials used have a high chemical resistance.
Elobau is a vertically integrated manufacturer that performs all circuit and cable assembly, plastic molding, assembly and full performance testing at its factories. Thus, modifications to suit virtually all industrial and commercial requirements are achieved quickly and in a cost-effective manner, through the design and engineering talent resident at Elobau.
If you are interested, contact Elobau for full details on these and other controls, sensors and machine safety products.
---