J7 Ergonomic Joystick for Tight Spaces
Product Announcement from elobau sensor technology, Inc.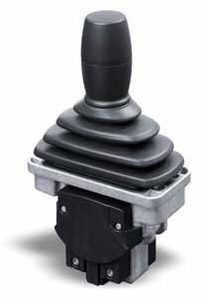 elobau sensor technology Inc. introduces an ergonomic single axis joystick, the series J7. The J7 joystick was developed primarily for installation in the armrests of off-highway vehicles. The design combines a high level of robustness, safety and reliability in a very small space. It is able to fully utilize these strengths under high loads and high-use applications.
Similar to other elobau joysticks, the J7 features reliable non-contact sensor actuation. The J7 utilizes a magnet that rotates around a Hall Effect sensor at joystick's pivot point. This technology provides IP67 class protection for all the onboard electronics.
The non-contact technology ensures a longer service life, guaranteed to four million cycles (friction brake: >2 million cycles). The joystick travel limit has a maximum deflection of +/- 25º. The J7 joystick operates in a range from -40ºC to +85ºC (-40ºF to +175ºF) and can have an output voltage of 0.5-4.5 VDC proportional or ratiometric.
---