Liebert® APS™ On-Line UPS, 5-20kVA
Product Announcement from Emerson Network Power / Liebert Power & Cooling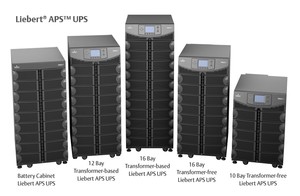 The Liebert APS UPS provides mission-critical availability ensuring your critical IT functions – and your business – will be available and running as expected through power disruptions, fluctuations and outages.
The Liebert APS UPS adapts efficiently and effectively as the needs of your users and core business power requirements change. The UPS offers capacity on demand with FlexPower core modules – allowing you to change capacity in 5kVA/4.5kW increments up to 20kVA.
Features:
True on-line double conversion UPS
Transformer-free and transformer-based models
User installable, hot-swappable capacity and battery modules
Internal redundancy capability (N+2/20kVA)
Benefits:
Low Total Cost of Ownership
Industry-leading efficiency: 92% for transformer-free systems and up to 89.9% for transformer based systems, protecting your investment doesn't waste energy.
Scalability that allows you to cost-effectively add power capacity or battery modules as needed.
Modular batteries, controls and power components to help reduce maintenance costs with user replacement.
Two year hassle-free factory warranty program for repair or replacement of your Liebert APS UPS.
Module-level redundancy eliminates the expense of purchasing and planning for additional cabinets.
Reduced installation time and cost because units are shipped pre-configured and factory tested, no need for on-site assembly.
Everything you need for efficiency and availability in one box: power modules, batteries, maintenance bypass, and distribution in a single, small-footprint cabinet.
Integral battery monitoring with temperature compensated charging to prolong battery life and help reduce replacement costs.
Reliability and Serviceability
Internal redundancy capability (N+2/20kVA) enhances reliability and provides multiple layers of power protection.
No single point of failure - Full redundant design allows the critical load to run on conditioned power if there is a failure of any component in the system.
Configurable design allows you to customize the Liebert APS UPS for your desired level of capacity and redundancy.
Fault-tolerant design, enables the power, battery and control modules to take themselves offline if there is a problem, without sacrificing overall system integrity.
Superior overload capabilities, able to provide conditioned power to temporary overloads without transfers to/from bypass power.
Internal wrap-around maintenance bypass and frame-level bypass with independent controls in separate assembly provide higher reliability and availability.
Flexibility
Capacity on demand with FlexPower™ core modules that allow you to change capacity as needed in 5 kVA/4.5 kW increments - without powering down.
More real kW - 0.9 power factor provides more real power to support the I.T. load than other solutions in this size range.
Isolated and non-isolated models to provide the right solution for your power protection needs.
Integrated distribution PODs allow selection of a variety of distribution options to meet application requirements.
Trellis™ platform connectivity, so the Liebert APS can easily be integrated with this robust, real-time data center optimization solution.
Three Liebert Intellislot® ports allow integration and communication with a variety of infrastructure management solutions, leading to better power optimization and visibility.
Optional matching external battery cabinets provide longer battery run times to protect against sustained power issues.
Installation Flexibility – use on raised floors, traditional flooring, or in rack enclosures.
Large input voltage window, which minimizes transfer to battery and increases battery life; low line transfer can range down to 110v.
Wide range of use, with the ability to be installed on raised floors, traditional flooring, or in rack enclosures
Ideally Suited For
Small-to-medium-sized data centers
Network closets
VoIP
You have successfully added from to your part list.
---