Product Announcement from Emerson Network Power / Liebert Power & Cooling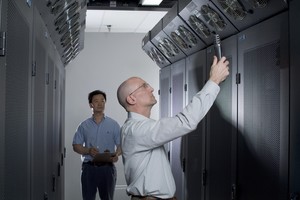 This flexible, scalable and space saving product mounts on top of the cabinet or suspended from the ceiling, requiring zero floor space. The modular and adaptive design of the Liebert XDV unit also allows it to be easily added as the demand for cooling increases.
It can either draw in hot air directly from inside the cabinet or from the hot aisle, and discharge cool air down into the cold aisle where the electronic equipment air inlets are located The Liebert XDV is a part of our high heat-density cooling product family that utilizes pumped refrigerant technology. The pumped refrigerant operates at low pressure in the system and becomes a gas at room conditions, making it ideal for use around electronic equipment.
Since the Liebert XD system always provides 100% sensible capacity, the need for humidification is significantly reduced, further reducing energy usage and maintenance.
Smart Module technology:
Liebert XDV Smart Modules include integrated control boards that provide the following capabilities:
Save energy by shedding a fan, based on the supply and return air temperature at the module.
Monitor the status of individual fans on the module with an on-unit, red/green LED.
Be alerted to the presence of condensation.
Remotely shutdown the module via dry contact closures.
You have successfully added from to your part list.

Play Liebert® XDV™ Rack Top Cooling Module Video
---