Islatrol® BC Series Active Tracking Filters®
Product Announcement from ASCO Power Technologies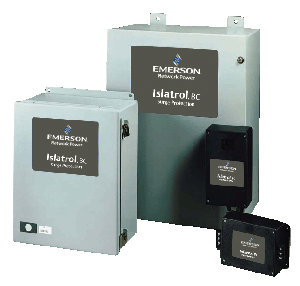 If You Don't Prepare, You Could Face Dead Air.
Don't let AC power line spikes, transients, and noise put your broadcast operations at risk.
In a nanosecond, power surges, spikes, and transients can compromise the quality of your broadcasts - or worse yet - take you off the air.

That's why it's good to know you can trust Islatrol® BC Series Active Tracking Filters® (formerly Islatron) to protect your sensitive broadcast equipment from component degradation, malfunctions, and premature failure.
Exclusive Active Tracking Filter® design protects microprocessor components from deterioration and destruction
15 - 160 kA surge protection
< .5 ns response time
RMS voltage input range: 120 to 600 volts
10-year warranty

To learn more about our Islatrol BC Series products, click here.

To order a copy of our latest Broadcast/Studio Surge Protection Catalog, click here.

If you have a technical question or require a quote, please contact us. Customer Service Representatives and Application Engineers are ready to answer your questions and assist you in finding the right Power Quality Solution.

If you require immediate assistance - please call us at 800-288-6169.
---