Newly Designed Highway Lighting Protector
Product Announcement from ASCO Power Technologies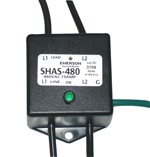 The Edco SHAS Series provides surge protection for 120V, 240V, and 480V single phase highway lighting and street pole applications. This suppressor is encapsulated in a weatherproof enclosure that is installed right inside the pole.

The Edco SHAS Series incorporates the use of TMOV's (MOV's with a thermal cutoff) and an LED. Should the unit's TMOV's degrade as a result of either a large surge or over time due to multiple surges, the LED will go out. This will enable the maintenance personnel to easily identify if the protection is lost and the unit needs replacing. They also have about 30% less capacitance and should eliminate the need to require a low capacitance version.

Features:
• LED Surge "OK" Indicator
• Smaller Footprint Easily Fits Into 3" x 5" Hand Hole
• One Third Less Capacitance
• Thermally Protected Metal Oxide Varistors (TMOVs)
• Weatherproof
• L - G & N - G Protection

Click Here to download the SHAS Series datasheet.
Click Here to view our white paper on Highway, Street and Parking Lot lighting, (Realizing the Importance of Installing Surge Protection).
---