Product Announcement from Endress+Hauser, Inc.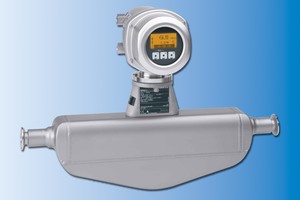 Promass S for multivariable measurement, reducing your metering point costs while providing a highly optimized signal for mass flow, volume flow, density and temperature or even calculating temperature dependent density variables of concentration (e.g. °Brix, °Plato, etc.). The innovative Proline 83 transmitter series offers advanced diagnostics as well as on-board batching software.
Promass S is produced with the highest rated accuracy for mass flow and density of any single tube measuring system available today. It is the first Coriolis meter introduced to the process measurement and control market that combines the mechanical advantages of single tube Coriolis flowmeters and the performance advantages of "curved" tube designs
The fundamental advantages of Promass S have been quickly put to use within the food and beverage industry due to simplicity in application selection, flexibility in measured variables, and high overall performance levels. At one customer in the dairy industry, the decision to switch to Promass S was an easy one.
The decision was made because the Promass S can perform mass, volume, density, and concentration measurement. The single tube design offered many "mechanical and process" benefits not available from other Coriolis meters. The dairy uses Promass S for volume flow based filling, mass based batching, and density functions for blending with special attention to % solids, sugar content, and color control. The stainless steel material in a single curved design, presented the ability to clean with hot CIP and experience fast recovery to accuracy specification. The fully drainable meter has also improved overall waste levels with color and flavor sensitive additives in their ice cream production.
A high performance single tube device, Promass S is capable of performing in high value clean liquids, heavy solids laden slurries, and precision density applications. Promass S is the first single tube design in stainless steel that measures density and exhibits the zero point stability of a dual tube device. Characterized by its curved tube design, the mechanical robustness of Promass S makes it truly suitable for demanding applications that require flow accuracy, high density performance over a large temperature operating range, and the ability to recover after in-situ cleaning processes to its specified measuring performance. Promass S is easy to install and requires no inlet and outlet runs. The fully welded design without moving parts and internal seals ensures maintenance free operation.
Endress+Hauser offers accredited calibration based on ISO/IEC 17025. This ensures an excellent accuracy of 0.1%o.r. for flow. In addition to flow, Endress + Hauser offers density calibration laboratories that make Promass S accurate to 0.001 g/cc over a wide temperature range. If the process is stable however, Promass S is able to provide 0.0005g/cc density performance.
You have successfully added from to your part list.
---