Product Announcement from Enertrols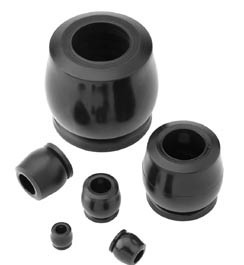 Elastomeric high performance bumpers from Enertrols are highly engineered products that absorb more energy per unit of weight and volume than many known materials. In various applications, these dependable bumpers significantly outperform rubber, urethane and coiled steel. Elastomeric bumpers consistently solve energy absorption problems where other materials have failed or simply don't exist.
These durable bumpers solve difficult energy management problems in applications involving shock isolation, vibration isolation and return springs. Elastomeric bumpers from Enertrols are reshaping performance standards in cost-effective energy absorption, durability, resilience and application flexibility.
Elastomeric bumpers are comprised of a thermal plastic co-polyester material that is excellent in resisting oil, grease, chemicals, salt water, ultra-violet light and microorganisms. They do not absorb water and will not swell.
The secret is in both the shape and in the proprietary manufacturing process. Each elastomeric bumper is specifically processed to a precise shape to meet the required load rates.
The result is a highly tailored, highly engineered product that adds performance and value to each application.
Proven Endurance and Resilience
The success of the proven elastomer bumper is demonstrated by the following information:
• Thousands of hours in mine trucks without failure
• Many years in rail car impact devices without failure
• Millions of cycles at maximum deflection without failure on step machines for the fitness industry
• More than 10 years in forklift truck masts without failure
• Millions of parts in automobiles without failure
Proven elastomeric bumpers are ideally suited for applications in the electric drive, heavy corrosive and crane bumper markets as well as numerous others.
Elastomeric bumpers from Enertrols are the lightweight, ultra-strong, exceedingly durable and economical product solution for your bumper application needs.
You have successfully added from to your part list.
---