Filter Minder® Heavy Duty Pressure Sensor
Product Announcement from Filter Minder®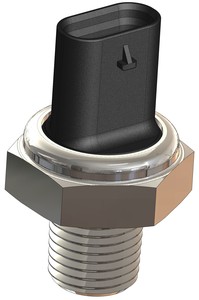 How Does It Work?
The sensor monitors vacuum and/or pressure on filter systems or virtually anywhere vacuum or pressure needs to be monitored. It gives a progressive output from .5 to 4.5 volts full scale. It is an absolute sensor not vented to atmosphere and can measure vacuum and/or pressure from .5 to 300 psia (3.4 to 2068 kPa). Some applications include: fuel pressure, oil pressure, air pressure, water pressure, gaseous pressure and others. See specifications for standard mounting and connector availability. Special mounting and connectors available if annual volume warrants (contact Filter Minder).

Specifications
Measurement Type: Vacuum and Pressure (Absolute)
Working Pressure Range: 0.5 to 300psia (3.4-2068 kPa)
Media: Diesel Fuel, Biodiesel, Gasoline, Hydraulic Fluid, Air, etc.
Burst Pressure: 3X Operating Pressure
Proof Pressure: 2X Operating Pressure
Supply Voltage: 5 Vdc ± .25 Vdc
Supply Current: 10 mA MAX
Current Output: 2.0 mA
Output Impedance: 2.5 k? MIN
Accuracy: < ± 2.5% full scale from –40°C to +140°C
Output Voltage: 0.5 - 4.5 Vdc ; Ratiometric between 3.5 v and 6.5 v supply
Over-voltage Protection: 33 V for 5 minutes
Reverse Polarity Protection: 33 V for 5 minutes
Operating Temperature: -40°C to 140°C [-40°F to 284°F]
Extreme Temperature Short Term: -40°C to 150°C [-40°F to 302°F]
Life Cycle: >10 million Full Scale
Vibration Envelope: 10-2000 Hz at 10 g's
Housing Material: PPS and Stainless Steel
Electrical Termination: 18 AWG GXL wire leads or Amp 16 or Deutsch DT04
Mounting Configuration: Various mounting configuration available
Response Time : ~ 1 ms Full Scale
Turn on Time : ~ 1 ms
You have successfully added from to your part list.
---