Product Announcement from Enviro-Analytical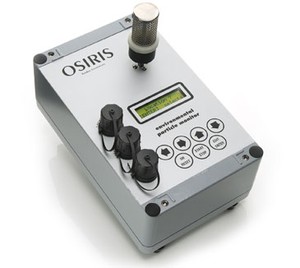 Turnkey Instruments
design and manufacture a range of
easy to use instruments which continuously measure and
record the concentration of airborne particles. In their
environmental mode these instruments can simultaneously
monitor the concentrations of TSP, PM10, PM2.5 and PM1
particles. Alternatively, in their workplace mode, the
inhalable, thoracic and respirable fractions can be monitored.
These instruments are sensitive to airborne particle
concentrations down a fraction of a microgram per cubic
metre.As such they easily meet the sensitivity requirements
of the new European Directives and the DETR guidelines for
PM10 and PM2.5 and will meet future requirements for PM1
particles.
An internal reference filter can be used to confirm
the gravimetric calibration of the instruments.
All instruments feature internal data logging for the particle
concentrations. Osiris and Topas also allow wind speed and
direction and two external gas or noise meter inputs to be
recorded at the same time. Traffic counting inputs can be
provided.
All instruments use our own proprietary nephelometer. A
pump continuously draws an air sample through the
nephelometer which analyses the individual particles as they
pass through a laser beam. These same particles are then
collected on the reference filter. The nephelometer's
dedicated microprocessor can analyse individual particles
even if there are millions of them per litre. This allows size
fractions to be determined at concentrations up to several
mg/m3. Above this there is an indicator range which can be
used without sizing up to 60 mg/m3.
You have successfully added from to your part list.
---