Generate Precise Standards -MultiPoint Calibration
Product Announcement from Environics, Inc.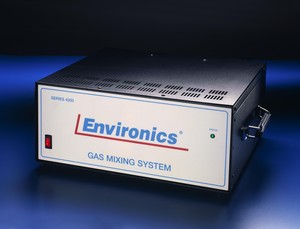 A low cost, computerized gas dilution system with an advanced Windows user interface.
The Environics® Series 4040 is a computerized gas dilution / gas divider system that automatically generates precise gas standards for rapid multi-point calibration of analyzers. The gas mixes can be used in generating precise gas calibration standards, creating gaseous atmospheres or producing gas mixes for analytical research or production purposes. The Series 4040 can produce gas concentrations from percent to ppb levels for single or multi-point calibration.
The system consists of two components: the Series 4040 instrument and the user's personal computer. The user interface is a Microsoft® Windows application that communicates with the Environics system via a USB interface.
The Series 4040 consists of a single chassis supporting up to eight mass flow controllers. The mass flow controllers are factory calibrated using a primary flow standard traceable to the United State's National Institute of Standards and Technology (NIST). Each flow controller utilizes an 11 point calibration table with linear interpolation, to increase accuracy and reduce flow controller nonlinearity.
PRODUCT FEATURES AND BENEFITS
Broad range of dilution ratios (up to 10,000:1) allows the user to significantly reduce the number of cylinders needed to perform compliance tests.
Allows multi-point calibration of analyzers.
Automatic calculation of dilution and span gas flows.
Internally-stored Mass Flow Controller calibration tables.
Modular design allows for additional gas circuits to be added.
User definable cylinder library allows for easy selection of frequently used gas cylinders. Each cylinder may contain an unlimited number of component gases with automatic K-factor calculation.
INSTRUMENT OPERATION
The Series 4040 has four basic modes of operation.
Concentration Mode
Allows user to create a blend by entering target gas concentrations for each source gas cylinder, and the desired total output flow for the mix.
Divider Mode
Allows the user to operate the instrument as an automated ten step gas divider.
Flow Mode
Allows user to specify the flow rate of each gas cylinder.
Program/Schedule Modes
Provides the ability to program the instrument for unattended operation. Programs can be recalled and run in any sequence, at various times/dates.
---