Coming Soon - Reduced Oxygen Breathing Device 3
Product Announcement from Environics, Inc.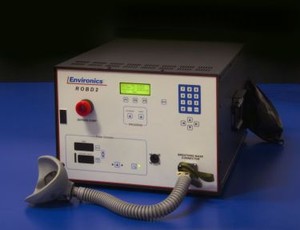 Reduced Oxygen Breathing Device 3 (ROBD3)
The Environics® Series 6202 Reduced Oxygen Breathing Device 3 is the next generation system that simulates altitude exposure and can be utilized for both research and hypoxia training
New Features of the ROBD3
10.4" Color Touch Screen HMI (Human Machinne Interface)
Improved Pulse Oximeter Response Time
Ethernet Connectivity with Remote Operating Software
Remote communications are compatible between ROBD2 and ROBD3
Flows up to 90 L/min standard vs 50 L/min
Graph SpO2, Oxygen, Pulse and Altitude for up to 80 minutes
Review trend data with test subject after recovery
Easily create 16 programs with up to 12 steps each
Breathing bag housed within the system
As in the currently available ROBD2, the ROBD 3 uses Thermal Mass Flow Controllers (MFC) to mix breathing air and nitrogen to produce the sea level equivalent atmospheric oxygen contents for altitudes up to 34,000 feet. The MFC's are calibrated on a primary flow standard traceable to the National Institute of Standards and Technology (NIST). The system introduces pressure changes and gas expansion as a function of altitude. Several safety features are built into the device: prevention of over pressurization of the subject's mask, prevention of reduced oxygen contents below those being requested for a particular altitude and an emergency dump switch that will supply 100% O2 to subjects. The software is menu driven. Built-in self-tests verify all system component functionality before the operation of the system can begin. If any self-test fails the system will not operate. The system is designed to work with both bottled gases and gases produced by a Nitrogen/Air Generator (available separately).
NEW RESEARCH PRESENTATION! "THE USE OF THE REDUCED OXYGEN BREATHING DEVICE (ROBD) IN A GENERAL CIVILIAN SAMPLE PULSE OXIMETRY MEANS AND RANGES,"a presentation of research by Leonard A. Temme, Ph.D. and David L. Still, O.D., Ph.D. of U. S. Army Aeromedical Research Laboratory, Dennis Reeves, Ph.D., and Rebecca Browning, B.S. of Clinvest, Banyan Group, Inc.
Licensed from U.S. Navy under U.S. Patent Application No. 10/959.764
OPTIONS
Shipping case with wheels
Dual stage regulators with braided hoses of various lengths
Additional pulse oximeter probes, sensors
Simulator Accessory Package - Simplifies setup of a fully integrated system
ROBD APPLICATIONS
Aircrew training and research
Application Document: US Navy - Mask-On Hypoxia Training for Tactical Jet Aviators (PDF)
Application Document: Hypoxia Recognition and Recovery Training for Commercial Pilots and Cabin Crew (Powerpoint)
References in Scientific Literature
Clinical research
High altitude training and research
Medical stress testing
Hypoxia Simulator
Environics is a world leader in computerized gas flow instrumentation. Our headquarters for design, manufacturing, sales and service is located in a modern 11,000 square foot facility in Tolland, Connecticut. We are ISO 9001 certified, having received ISO 9001 Quality Systems Certification in April, 1997.
We are a profitable, privately held company, founded in 1986 and incorporated in the State of Delaware. As of April 2011, we are a Women Owned business, certified through the Woman Owned Small Business Program run by the United States SBA. Our five-year projections show continued growth through the introduction of new products and product innovations. All service is handled factory direct. Sales are handled direct and by selected manufacturers representatives and distributors worldwide.
At Environics, we are dedicated to customer service before, during and after your system is built. We stand by our systems and believe in building long-term relationships with our customers.
What can an Environics system do for you?
Do you have a question regarding an Environics system?
Are you interested in learning more?
Do you need more information regarding a custom project?
Our team would be happy to help you get the system you need!
---