ProRaman-L Series Raman analyzers
Product Announcement from Enwave Optronics, Inc.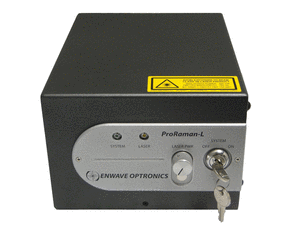 The ProRaman-L Series Raman analyzers are high performance Raman instruments suitable for industrial applications or laboratory experiments that require high sensitivity, affordable Raman instruments.
Each system in the ProRaman-L Series features either a 785nm frequency stabilized laser, 532nm DPSS laser, or a NIR frequency-stabilized laser and a high throughput laboratory fiber optics probe. The spectrograph has its CCD cooled to -60ºC for optimum sensitivity.
The ProRaman-L Series instruments are ideal for demanding laboratory Raman analysis, chemical process monitoring in the lab, and for any academic, research, industrial laboratories requiring an affordable, high performance Raman instrument.
Product Highlights:
Fully Integrated Raman System
Laser Wavelengths available: 785nm frequency-stabilized laser; 532nm DPSS laser; 687nm frequency-stabilized laser; NIR frequency-stabilized laser
High Performance Probe (O.D. > 8)
Average Optical Resolution: ~4.5-6.5 cm-1 (785nm); ~7-10 cm-1 (532nm); ~10 cm-1 (687nm); ~5 cm-1 (NIR)
SPectral Range:

785nm Options: ~250-2,350 cm-1; ~100-2,200 cm-1; ~100-3,300 cm-1
532nm Options: ~250-3,300 cm-1; ~250-4,000 cm-1
687nm: ~250-4,000 cm-1
NIR: ~100-1,745cm-1

High Sensitivity TEC-Cooled (-60°C) CCD Spectrometer
Powerful & User-friendly Software
Robust & Durable Design
Best Performance / Cost
---