Benchtop Cell Culture Bioreactor
Product Announcement from Eppendorf, Inc.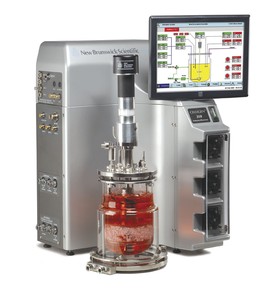 New Brunswick Scientific's CelliGen® 310 benchtop autoclavable bioreactor, 2.5 - 14 Liters, is an advanced cell culture system, capable of regulating one to four independent vessels from a single touchscreen controller. Ideal for culturing a wide variety of mammalian, animal, insect and plant cultures, the CelliGen 310 can regulate up to 32 parameters per vessel; over 120 parameters total.
Powerful CelliGen 310 Benchtop Bioreactor Has it All
Compact design - exceptionally small footprint.
cGMP-compliant to meet your requirements in research through production.
Batch, fed-batch & continuous modes for growing high-density cultures of mammalian, insect & plant cells.
For secreted products, a patented packed-bed basket option is available to maximize cell productivity regardless of cell type.
Fully-integrated system is ready for out-of-the box startup. Includes a Master Control Station with built-in controller, touchscreen monitor, pumps and thermal mass flow controller with 4-gas control. Vessel, pH/DO/and level/foam probes, hoses & more are included.
Advanced Touchscreen Controller Simplifies Operation
Large 15" touchscreen clearly displays all setpoints, current values, cascade loops and more. Display screens are straightforward and easy to navigate.
Integrate up to ten of your sensors, scales, analyzers or other external devices for process optimization.
User-customizable trend graphs make it easy to track and export data. Trends up to 8 loops simultaneously.
Built in flexibility to customize all your PI values, or select factory defaults.
Save up to 10 of your recipes per fermentor for repeat usage.
View total pump flow rate; and easily calibrate pumps via touchscreen.
Available in Four Sizes With Multiple Options.
Interchangeable, autoclavable glass vessels are available in four sizes. 2.5, 5.0, 7.5 and 14.0 liters, total volume.
Customize by selecting from our wide range of options. Add multiple mass flow controllers, Redox probe, a second pH or DO probe, BioCommand® supervisory software & more. Validation & training packages are available.
Download the brochure or request a quote at www.nbsc.com/gsk.
---