Benchtop Single-Use Stirred-Tank Bioreactor
Product Announcement from Eppendorf, Inc.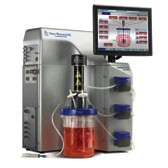 New Brunswick Scientific, an Eppendorf company, has introduced a new benchtop cell culture bioreactor that combines single-use technology with the trusted performance and true scalability of a stirred-tank design.
CelliGen BLU has been engineered for high-density animal cell culture in research or production, using interchangeable, single-use, stirred-tank vessels in 5.0 and 14.0 L total volume capacities. A compact controller enables advanced process management for research or cGMP manufacturing. New adapter kits are now also offered that enable controllers designed for autoclavable bioreactors to be used with New Brunswick's CelliGen BLU single-use vessels.
Key Benefits of the CelliGen BLU Bioreactor
The single-use vessel eliminates autoclaving and cleaning, provides rapid turn-around between runs, reduces risk of contamination, reduces validation requirements and minimizes initial startup costs
The integrated control station enables advanced gas management and process control
Stirred-tank design provides proven performance and scalability
Unique pH and DO technology makes probe insertion totally noninvasive and autoclaving unnecessary
Single-Use Vessel, Stirred-Tank Design
Interchangeable, rigid-wall, 5 and 14 liter stirred-tank vessels come pre-sterilized and ready for use - no cleaning, autoclaving, or assembly needed. All vessel components in product contact are made of USP Class VI materials and have been tested for leachables and extractables, making them appropriate for GMP environments.
Vessels Include:
Bi-directional, pitched-blade impeller
Microsparger or macrosparge option
pH sensor
Tubing (silicone and C-Flex®, for use with tube welders)
0.2 μm Filters
Sealed magnetic drive
Ports and Penetrations:
RTD/temperature
Noninvasive optical pH
Noninvasive polargraphic DO
Additions (3)
Harvest
Overlay
Sparge
Sampling
Exhaust line with heater
Compact Control Station
New Brunswick's powerful RPC (Reactor Process Control) firmware provides integrated control of up to 32 process parameters, and includes time-saving recipe features, built-in security and ability to simultaneously monitor up to eight parameters on user-customized trend graphs.
Sophisticated Control Station includes:
Industrial touchscreen interface with adjustable position, 15" (38 cm) color display
3 integrated pumps (with option to add more)
Magnetic-drive motor
Control of temperature, pH, DO and 3- or 4-gas mixing
7 analog inputs and 7 analog outputs for addition of ancillary devices
Media bag hanger
Gas Flow Control Options
1, 3 or 4 Thermal Mass Flow Controllers (TMFC) or a Rotameter for sparge gas
Rotameter or TMFC for optional gas overlay
Additional Options
Scale for measuring additions and harvest
Validation packages
Gas regulators
Media/supplement addition kits
BioCommand® SCADA software
CelliGen BLU is one in a full range of cell culture bioreactors offered in 1 - 650 Liter capacities. A wide range of microbial fermentors are also offered in capacities up to 3000 liters for research and production. New Brunswick also offers a wide range of CO2 incubators, biological laboratory shakers, and more.
---