BioFlo 310® Benchtop Autoclavable Fermentor
Product Announcement from Eppendorf, Inc.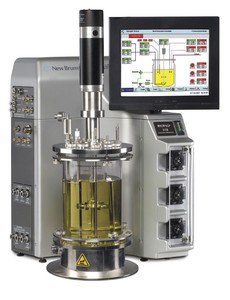 New Brunswick's BioFlo 310 is a compact, microbial fermentor designed for research and small scale production. The BioFlo 310 is offered with choice of four autoclavable vessels, 2.5 -14 Liters (total volume), and a powerful controller that is capable of regulating up to 32 parameters in up to four vessels, simultaneously, (128 parameters total!) A wide range of gas control options are offered, and the system lets you easily integrate your analyzers, sensors & other ancillary devices into your control stategy.
Powerful Fermentor Has it All
Compact design - smallest footprint of any benchtop fermentor.
cGMP-compliant to meet your requirements in research through production.
Batch, fed-batch & continuous modes for growing microbes, yeast & fungi.
Fully-integrated system is ready for out-of-the box startup. Includes a Master Control Station with built-in controller, touchscreen monitor, pumps and thermal mass flow controller with 4-gas control. Vessel, pH/DO/and level/foam probes, hoses, sterile sampler & more are included.

Advanced Touchscreen Controller Simplifies Operation
Large 15" touchscreen clearly displays all setpoints, current values, cascade loops and more. Display screens are straightforward and easy to navigate.
Integrate up to ten of your sensors, scales, analyzers or other external devices for process optimization.
User-customizable trend graphs make it easy to track and export data. Trends up to 8 loops simultaneously.
Built in flexibility to customize all your PI values, or select factory defaults.
Save up to 10 of your recipes per fermentor for repeat usage.
View total pump flow rate; and easily calibrate pumps via touchscreen.
Available in Four Sizes With Multiple Options
Interchangeable, autoclavable glass vessels are available in four sizes. 25, 5.0, 7.5 and 14.0 liters, total volume.
Pre-configured packages simplify ordering.
Customize by selecting from our wide range of options. Add multiple mass flow controllers, Redox probe, a second pH or DO probe, BioCommand® supervisory software & more. Validation & training packages are available.
Full featured, compact in size, easy to operate and fully scalable, the BioFlo 310 offers the most value and versatility in its price class. One of a full range of microbial fermentors in 1 to 3,000 L capacities and cell culture bioreactors to 650 Liters. For New Brunswick's wide range of other products see www.nbsc.com
---