CO2 Incubators
Product Announcement from Eppendorf AG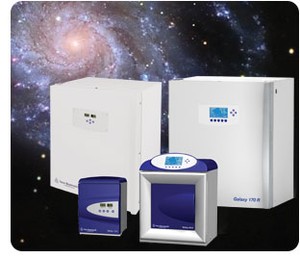 Since 1991, Galaxy CO2 incubators have offered researchers and clinical labs a reliable and user-friendly system for culturing cells. Now, the Galaxy line has been improved to offer even more standard features, better performance and a wider range of options.
Galaxy CO2 Incubators were originally developed by RS Biotech, which is today a part of New Brunswick Scientific, an Eppendorf company. These incubators were the first to offer a direct heat, fanless design - transforming the way cell culture is accomplished and making traditional water-jacketed incubators a rusty relic of the past.
By providing more incubation capacity, in a smaller footprint, with more options and a significant decrease in contamination risk compared to water-jacketed systems, Galaxy CO2 incubators are easier to maintain, setup and utilize, while providing superior performance. These elements have made Galaxy systems a favorite among discerning scientists in in-vitro fertilization (IVF), stem cell research, as well as traditional cell culture.
Three Sizes and Two Models
New Brunswick Galaxy incubators are offered in a range of three sizes and two models, with an unrivaled number of options. Choose advanced R Series Incubators in 48 liter and 170 liter (1.7 and 6.0 cu. ft) capacities, or S Series models in 14, 48 & 170 liter (0.5, 1.7 and 6.0 cu. ft.) capacities. All Galaxy CO2 incubators feature:
Six-Sided, Direct Heating Profile: Pioneered in Galaxy incubators, the unique direct-heat profile provides a very gentle convection circulation of chamber atmosphere for exceptionally uniform temperature and incubator environment. This system guards against wide fluctuations in temperature and CO2 that can shock cells, as seen in traditional forced-air culture systems.
Fanless Design: Galaxy incubators pioneered elimination of conventional fans, replacing them with our unique heating profile, which sets up a gentle circulation of air. By removing the fan, Galaxy incubators have eliminated a classic source of repeated contamination, allowing the entire incubator - including upper shelf - to be utilized while maintaining uniformity. In addition, since there is no fan, there is no need for an expensive internal HEPA filter that needs to be replaced frequently.
IR CO2 Sensor: Standard in all Galaxy models, is our unique InfraRed (IR) CO2 sensor. This sensor offers specific measurement and accurate control of CO2 levels. The traditional thermal conductivity (TC) sensor is highly sensitive to changes in chamber humidity and temperature fluctuations, and is therefore fundamentally unsuitable for use in CO2 incubators. Uniquely, the Galaxy IR Sensor can remain in the chamber during the entire high-temperature disinfection cycle, ensuring that all chamber components are sterilized.
Simplified Cleaning: On all models, the chambers are pressed from a single sheet of stainless steel, with no welds or seams, eliminating another potential source of contamination. In combination with the easily-removable, replaceable shelves, this makes chamber cleaning a rapid and efficient process, so more time can be spent engaged in science and less with maintaining the instrument.
Unique Range of Model Sizes: In common with our 170 liter/ 6.0 cu. ft. incubators, our 48 liter / 1.7 cu. ft. and 14 liter / 0.5 cu. ft. incubators incorporate all of the superior design and innovation of the larger units, in a smaller format. These units offer the ideal environment for hypoxic applications, research requiring isolation, and IVF research.
Options: Galaxy CO2 incubators come with a wide variety of options allowing customization to meet your exact requirements and level of sophistication. With High-Temperature Disinfection (HTD), three levels of oxygen control, copper interior and more, there is a Galaxy incubator for every application. (For details, click options.)
NEW Features:
25mm Access Port Standard Available for adding instrumentation or additional probes.
RS-232 Port Standard For communication and external instrument logging.
Perforated Shelves The unique design of the perforated shelving system optimizes temperature, CO2 and especially RH recovery to minimize the effects of door openings and closings.
Innovative Sealed Inner Glass Door Available on 170L models, the new sealed inner glass door system allows viewing access to the samples while maintaining complete sample and environmental integrity. This system is designed to minimize costly CO2 and N2 consumption and to provide optimal sample stability and uniformity throughout the culturing process.
Galaxy incubators… meeting your cell culture demands today, and into the future.
Get all the details by requesting a brochure or quote at www.nbsc.com/gs5.

Play CO2 Incubators Video
---