Dependable Biological Shakers in Over 25 Models
Product Announcement from Eppendorf, Inc.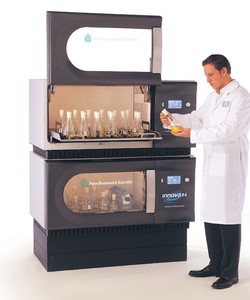 New Brunswick Scientific is the leading manufacturer of biological shakers, offering the largest selection of shakers - over 25 models - to suit a wide variety of applications. NBS shakers are known the world over for dependable operation and innovative design. Three distinct lines are offered: the top-of-the-line Innova® Series including several space-saving stackable models, all designed for heavy-duty shaking needs; new Excella™ Shakers for less demanding applications; and a water bath model from the Classic C-Line. A wide range of platforms and accessories are also offered.
Advanced Innova Shakers
Choose from open air, incubated, and incubated/refrigerated models, as well as benchtop, floor model and space-saving stackable designs. Microprocessor-controls ensure reproducible results and operator convenience.
Agitation speeds of 25 - 500 rpm enable a wide variety of applications.
Most temperature-controlled models attain temperatures to 80oC. (See specs for details).
"Set it and forget it" programming in the new Innova 40, 42, 43 & 44 models enable you to store and recall multiple parameter - multi-step recipes for convenient, automated operation.
NBS shakers are the quietest running in the industry for a more favorable work environment.
Safe and durable. NBS' shakers feature their often imitated but never duplicated triple-ecentric drive for uniform mixing regardless of flask position on the platform.
Extra protection is provided by an open lid cutout, high-temperature failsafe, cool-running brushless motor, and automatic restart with non-volatile memory.
Choose from multiple options including incubation and refrigeration, photosynthetic lighting, gassing, humidity probe, numerous platforms and accessories and much more.
NBS offers the most comprehensive warranty in the industry - 3 years on parts and 2 years on labor for the entire machine! (Accessories, like light banks, carry a one year warranty.)
NBS Quality For Budget Restricted Labs NBS Excella models are designed for lighter-workloads, with a more limited range of options. While these microprocessor-controlled shakers may not offer all the advanced features or specifications of the Innova models, they are affordably priced and offer an excellent alternative when budget constraints are an issue.
For product specifications, download the brochure or request a quote at www.nbsc.com/gs7.
---