Laboratory Freezers Ultra-Low Temperature (-86°C)
Product Announcement from Eppendorf AG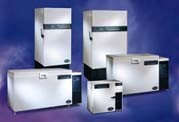 Most models in stock for immediate delivery!
New Brunswick Scientific's ultra-low temperature laboratory freezers are exceptionally energy efficient, quiet running and reliable, with over a 30-year track record of providing safe and dependable sample storage. New Brunswick now offers over a dozen lab freezer models in three product ranges to accommodate a wide variety of sample storage needs.
Innova® ULT laboratory freezers utilize Vacuum Insulation Panel technology, to provide up to 30% more internal storage capacity than conventionally-insulated lab freezers, without increasing the external dimensions. Our Premium ULT laboratory freezers are high-quality and full-featured, using conventional polyurethane insulation to provide a cost-effective alternative. New eco-friendly HEF High Efficiency freezers are the most energy efficient in the industry (as of Sept. 2011). No matter which New Brunswick freezer you choose, all will provide top-quality, dependable storage for your valuable samples. For details, click one of the selections below.
Innova ULT Laboratory Freezers
Premium ULT Laboratory Freezers
NEW Slender Innova U360 Lab Freezer
High Efficiency Freezers Freezer Accessories
New Brunswick also offers a wide range of CO2 incubators, laboratory shakers, fermentors and cell culture bioreactors, for all your culture needs.
---