Slender Innova® U360 Laboratory Freezer
Product Announcement from Eppendorf AG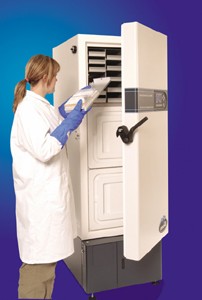 With Advanced Design, Sophisticated Control and Automated Data Logging Capability!
In stock, ready for immediate delivery!
New Brunswick Scientific's Innova freezer line now includes a new slender-styled upright -86°C freezer for labs tight on space. The Innova U360 features an advanced new user interface with extra large display, automated data logging and more. Like the other Innova models in the line, this freezer uses Vacuum Insulation Panel technology to slim down wall thickness, providing greater storage capacity in a reduced footprint.
This lab freezer shares the same quality construction and system advantages as our original Innova models, but with many added new features, as highlighted below.
LARGE CAPACITY, SMALL FOOTPRINT
360 liters (12.7 cubic feet): Holds up to 252 2" boxes
Narrow Design: Only 67 cm (26.4") wide, including the handle
EXTRA-LARGE INNOVA DISPLAY
Bright, Easily Read, ergonomically located, backlit LCD
On-Screen System Messaging: displays setpoints, details of as alarms, door openings and operating conditions with time-date stamp
Automated Data Logging: temperature, alarms and door openings are automatically stored for up to 30 days, for on-screen graphing. Downloadable to PC with optional communication ports, for your strictest validation requirements
SUPERIOR USER CONTROLS
Total System Security and Control are ensured through use of multiple sensors, and flexible programming of alarms, user ID and passwords
Alarm Log identifies door open, power failure, electric fault, and sensor failures for cabinet and ambient temperature, and air-cooled and cascade condensers
Communications Ports: Two PS2 data ports standard. RS-485 & Ethernet ports optional for downloading to PC for validation requirements
SIGNIFICANTLY REDUCED NOISE LEVELS
Quiet Operation achieved through an advanced compressor housing with noise-reducing insulation, enabling placement of the freezer directly in your work area
OPTIONS & ACCESSORIES
Padlock Adapter Kit - allows up to 2 padlocks to be added to outer door handle
Communication Kit - includes RS485 and Ethernet ports
Voltage Stabilizer, 120V models only, modulates incoming line voltage
Innova Aluminum Racks, for 2", 3" & 4" boxes
7-Day Paper Chart Recorder
CO2/LN2 Backup Kits
Click Here for our Freezers & Accessories Brochure (pdf)
---