Sterilizable-in-Place Fermentor, 7, 14 & 19.5L
Product Announcement from Eppendorf, Inc.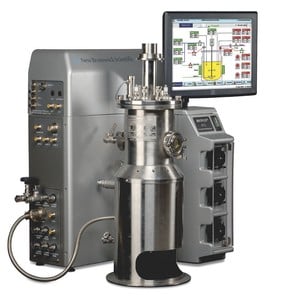 New Brunswick Scientific's BioFlo 415 sterilizable-in-place fermentor, with advanced touchscreen interface, provides an unprecedented level of convenience and control for research through production applications. This cGMP-compliant, validatable benchtop system is uniquely capable of automatic sterilization using only your lab's water supply and the unit's built-in heater. With the ability to control up to 32 process loops and regulate one to four gasses, it's an ideal system for high-yield production of bacteria, yeast & fungi in aerobic and anaerobic cultures.
Sterilizable-in-Place Convenience
Why struggle with carrying heavy vessels to and from the autoclave? Now you can sterilize your vessel, air and exhaust lines - with no external steam supply needed.
Sterilization sequences are fully automated.
Rapid heat up & cool down (approximately 1°C minute heat-up in 7 L vessels with cool down in under 30 minutes. 14 & 19.5 L vessels take longer.)
Sterilization sequences are easily initiated and configurable to match any requirement.
Powerful Controller with Large Touchscreen Display
We've seamlessly blended power and simplicity into one easy-to-use control station.
Large 15" touchscreen interface simplifies entering setpoints and provides easy-to-read displays of current values, cascade loops, sterilization cycles and more.
Controls up to 32 process loops.
Easily integrates up to 10 external devices including your scales, analyzers or sensors for optimized yields.
User-customizable trend graphs make it easy to track and export data. Trends up to 8 loops simultaneously.
Saves up to 10 of your recipes for repeat usage.
Pre-Configured or Customizable to Fit Your Process Needs
Simplify ordering by choosing one of our pre-configured packages, or select from a wide array of options to customize the BioFlo 415 to your process needs.
Offered with interchangeable 7, 14 & 19.5 L stainless-steel vessels. There's no hard piping, so you can interchange another vessel of any size, at any time.
1 Thermal Mass Flow Controller (TMFC) is standard. Multiple TMFCs optional.
Multiple impeller options are available, individually suited for a particular process.
Optional probes, addition kits, and BioCommand® supervisory software can be added. Validation & training packages are also available.
BioFlo 415 Makes Scale-Up Easy
New Brunswick Scientific's BioFlo 415 is just one of a full line of unique solutions for research through production-scale processing. This SIP system combines dependable operation, with system flexibility, increased throughput and affordable pricing.
For quotation or to download the brochure, see www.nbsc.com/gsL.
---