High Attenuation EMI/RFI Enclosures
Product Announcement from Equipto Electronics Corporation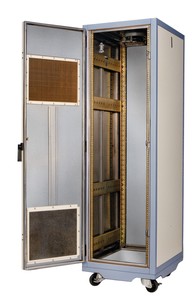 EMI/RFI shielded electronic enclosures from Equipto Electronics provide an exceptionally high 80 db of attenuation from 200 MHz to 1 GHz and 60 db from 1 GHz to 10 GHz.
Originally designed for a new defense systems program, the enclosures continue to meet the high EMI/RFI attenuation even after completing a NEBS Zone 4 earthquake simulation, the most severe test for seismic resistance. Design of the enclosures include I/O areas for cable and power, fans, and EMI air filtering. Enclosures with the high EMI/RFI resistance start at $15,000.
Equipto Electronics achieved the new level of performance using its "Heavy Duty" line of electronics cabinets. Engineers designing cabinets to enclose electronic systems where requirements can change depending on, for instance, where they are installed, can find the flexibility they need in Equipto Electronics' Heavy Duty line. Even without the higher shielding, Heavy Duty cabinets meet requirements for earthquake protection, dust-proofing, shock and vibration, EMI/RFI, FCC/VDE, EMP/TEMPEST, metric and more.
About Equipto Electronics Corporation:
Equipto Electronics Corporation provides packaging solutions for electronics. We are a leading innovator and supplier of standard and custom designed packaging for electronics. Some of the ways we can assist you in solving your packaging problems include:
One of the largest and most experienced teams of electronics' packaging design engineers who consult by phone, e-mail and fax at no charge.
Design services from modifications of standard products to analytical performance analysis are available so you can get the right package for your electronic products.
Reproducible engineering drawings delivered electronically.
Multiple lines so extensive customers can usually find exactly what they need without customization.
Cabinets that meet earthquake, EMI/RFI, FCC, Military (MIL-167, MIL-461, MIL-810 & MIL-901) Tempest, EMP and European EMC requirements.
Hundreds of accessories in thousands of sizes.
Experienced customer service people and factory-trained sales representatives.
We can help you increase your production capacity or reduce your vendor base by installing components in your electronics enclosure and delivering the entire package to you.
Please click on the links to the right for more information or contact Equipto Electronics Corporation today!
---