New - Highest Rated EMI/RFI Protection Available
Product Announcement from Equipto Electronics Corporation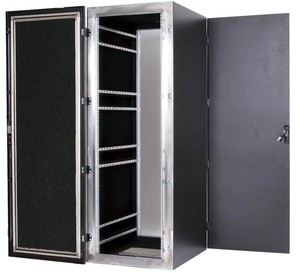 Unprecedented electronics protection is now available with the new R6 Shielded Enclosure line from Equipto Electronics against electromagnetic pulse and electromagnetic radiation effects. Far exceeding the most stringent Tempest (specifically NSA 94-106) requirements in the fields of intelligence and security, the R6's cost-effective design is compact and mobile while providing shielding effectiveness comparable to an anechoic chamber.
The following are some of the applications where R6 is currently being used:
Department of State: R6 offers US embassies protection against espionage and possible Directed EMP weapons.
Telemetry: Used in harsh environments such as the Atacama Desert, the R6 provides protection against Electromagnetic fields generated by large telescopes.
Nuclear Research Labs: R6 does not use Beryllium in any of the gaskets and hence is safe to use in nuclear facilities or test laboratories.
Gas Turbine Plants: Flexible design of the R6 allows incorporation of complicated cooling and cable routing requirements, while providing protection against Electromagnetic Interference.
The R6 also offers some great features:
Cabinet custom sized to your requirements
Choice of front, rear or front and rear doors, panels or combination
Four-point door lock system is easily operated
Line filters/wave guides to meet your needs
Field replaceable door gasketing
Proprietary honeycomb air filter in choice of .5", .625" and 1" depths
Fiber wave guide(s) as needed
Adjustable mounting rails inside (punched, threaded or square hole)
Choice of Equipto Electronics' standard supports or Unistrut
Wide selection of accessories
Custom cooling to meet your needs
RoHS compliant
Be sure to contact Equipto Electronics today to discuss your EMI/RFI shielding protection needs!
---