DSP Chemical Wire Stripping Pots
Product Announcement from Eraser Company, Inc.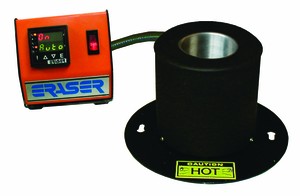 The DSP Series Chemical Wire Strippers from The Eraser Company can remove the insulation from magnet and enamel wire, including litz wire, without damage to the wire.
DSP Pots are designed specifically for use with Dip Strip. Dip Strip starts as a solid crystal form and melts to a liquid when heated. Wires are immersed in the chemical, which will bubble slightly as the insulation is removed. The stripped wires are then rinsed in water and Dip Clean 2 Metal Cleaner to remove oxides and residue, and then again in water. Dip Strip does not corrode conductors as will acid strippers. The chemicals do not fume, and only normal ventilation is required.
Models in the DSP Series include the DSP1 and DSP2. These pots can hold one pound of the Dip Strip Chemical. The DSP1 has a standard variable temperature control, while the DSP2 features an advanced feedback temperature control.
Dip Strip comes in a one pound bag, two pound bag, or a fifty pound bucket. Dip Clean 2 Metal Cleaner is available in a one pint or one gallon container.
Dip Strip Neutralizer is also required, and is a safe, economic method to dispose of Dip Strip after use in the Stripping Pots.
For more information, please visit www.eraser.com, or contact Eraser at (800)724-0594 or info@eraser.com.
---