G10S Twists Pre-Stripped Stranded Wires
Product Announcement from Eraser Company, Inc.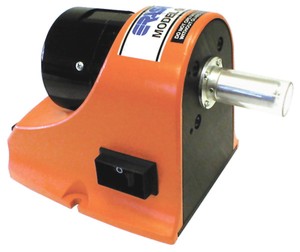 Eraser's Model G10S Bench Wire Twister is used for many diverse twisting needs. The G10S can twist pre-stripped stranded wires, twist strands of two or more wires together, twist wrapped shields on coaxial cables and tighten the twist of already twisted wire.
The G10S is supplied with one set of three twist length spacers to vary the twist length, depending on application needs.
Twisting inserts can be ordered depending on wire size to be twisted.
About The Eraser Company, Inc.
The Eraser Company, Inc., celebrating over 100 years in business, manufactures a wide range of machinery that enables customers to manufacture, prepare, and process, wire, cable, and tubing products more efficiently, effectively, and profitably. The company is ISO 9001:2008 Certified, and their products can be found worldwide. For more information on Eraser's entire product line visit www.eraser.com or call 315-454-3237.
---