Handheld Thermal Wire Strippers
Product Announcement from Eraser Company, Inc.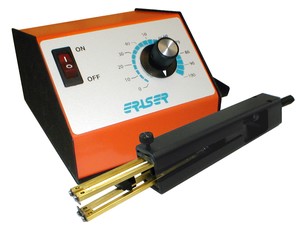 Thermal Wire Strippers from The Eraser Company are used to remove the insulation from wire and small cables through the use of heated stripping elements. The HTS Series includes hand-held models featuring a small and lightweight hand piece. The stripping element temperatures are variable up to 1100°F. Depending on the application, models in the HTS Series are available with either foot switch or cradle switch activation. Eraser's thermal strippers can be used on a variety of insulations, but are especially effective on insulation such as P.T.F.E. and Teflon. For more information, please visit www.eraser.com, or contact Eraser at (800)724-0594 or info@eraser.com.


About The Eraser Company, Inc.
The Eraser Company, Inc., celebrating over 100 years in business, manufactures a wide range of machinery that enables customers to manufacture, prepare, and process, wire, cable, and tubing products more efficiently, effectively, and profitably. The company is ISO 9001:2008 Certified, and their products can be found worldwide. For more information on Eraser's entire product line visit www.eraser.com or call 315-454-3237.
---