LS10 and LSR10 Cable Strippers
Product Announcement from Eraser Company, Inc.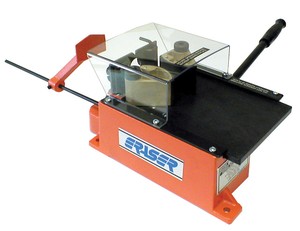 The LS Series Wire and Cable Strippers from The Eraser Company can provide a clean strip on a variety of jacketed material types and sizes.
The LS10 is hand operated and uses standard clamps. This machine can strip material with an outer diameter up to 1.25". To operate, simply place the material in the unit and with one pull of the handle, the blades will close, sever the insulation, and remove the slug. Return the handle to the start position to remove the stripped material.
The LSR10 is also hand operated, but features rubber covered clamps to eliminate markings on the jacket. The LSR10 can strip material with an outer diameter up to 1.06".
Both units feature an adjustable length stop to ensure consistent strip lengths.
Die blades are required and can be selected by measuring the diameter of the conductor. Parallel blades and custom blades are also available. Use the Eraser Certification Program to send in sample material and let our technical experts determine the correct blades for your application.
For more information about Eraser's wide range of wire processing equipment, contact your sales rep today.
www.eraser.com
(800)724-0594
info@eraser.com
About The Eraser Company, Inc.
The Eraser Company, Inc., celebrating over 100 years in business, manufactures a wide range of machinery that enables customers to manufacture, prepare, and process, wire, cable, and tubing products more efficiently, effectively, and profitably. The company is ISO 9001:2008 Certified, and their products can be found worldwide. For more information on Eraser's entire product line visit www.eraser.com or call 315-454-3237.
---