C200 Twin Blade Rotary Wire Stripper
Product Announcement from Eraser Company, Inc.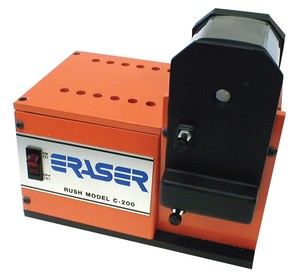 Model C200 Wire Stripper from the Eraser Company can strip extruded wire quickly and cleanly through the use of a twin blade rotary head. The stripping head incorporates a pair of easily adjustable tungsten carbide stripping blades which can remove various types of insulation from solid or stranded wire. Wire diameter including insulation may range from .028 inches to .265 inches.
The C200 will remove the slug and twist the strands of the wire when withdrawn, or the slug may be left on the wire and removed later prior to termination. By reversing the belt, the units may be operated with either clockwise or counterclockwise rotation depending on the lay of the wire.
Depending on the material, this unit is capable of stripping a length as small as 1/32 of an inch. An adjustable strip length stop allows for consistent and repeatable strip lengths. Wire guides are not included and must be purchased separately based on wire size.
Visit Eraser to learn more about the C200 and to see the complete line of wire and cable strippers.
About The Eraser Company, Inc.
The Eraser Company, Inc., celebrating over 100 years in business, manufactures a wide range of machinery that enables customers to manufacture, prepare, and process, wire, cable, and tubing products more efficiently, effectively, and profitably. The company is ISO 9001:2008 Certified, and their products can be found worldwide. For more information on Eraser's entire product line visit www.eraser.com or call 315-454-3237.
---